2nd Annual Golf Tournament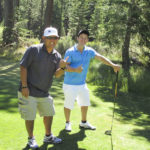 CME hosted its 2nd Annual Golf Tournament on July 27th to thank clients for the opportunity to work with them this past year. Eighty participants from the community comprised 20 teams for the scramble tournament.
The participants arrived that Saturday morning with the sun, enjoying doughnuts and bloody marys prior to loading onto the bus (cool kids in the back!) for the ride from the CME office in Reno to the Northstar Resort Golf Course for the tournament. Upon arrival, teams were greeted with the opportunity to purchase raffle tickets to support the Derek Jensen Memorial Scholarship Fund. The fund was created to honor the life of a previous employee, Derek Jensen, whose life ended tragically before his time. Mother Nature decided to support the cause, as well, providing a perfect sunny day for golf. Motivated by bragging rights, teams competed for the oversized 1st, 2nd, and 3rd place trophies. Although several golf balls with the CME logo were lost, players enjoyed themselves in the process. Once all teams completed the 18-hole course, lunch was served and trophies and raffle prizes were distributed before concluding the day, having raised $5,000 for the scholarship fund. The event was deemed a success, and players are looking forward to the 3rd annual tournament next summer.