Magnetic Induction Tomography (MIT) Testing – CME owns and operates the only MIT-Scan2-BT sensor system on the west coast, which provides non-destructive testing of dowel bar locations within concrete roadway and airfield pavement joints. This cost-effective method provides our clients with detailed information about the placement of every dowel bar, enabling the contractor to rectify any that are misaligned before damage to the concrete occurs.
---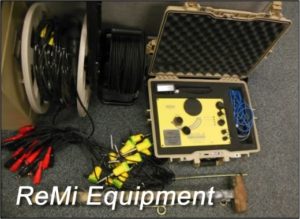 Refraction Microtremor (ReMi) Seismic Refraction Survey – CME's geotechnical staff utilize the ReMi method to provide an effective and efficient means to obtain basic subsurface profile information across a location explored during a geotechnical investigation. The resulting S-wave velocity profiles (reaching a depth of 100 feet) can be used for seismic design site classification in general accordance with Section 1613.5.5 of the International Building Code and AASHTO Table 3.10.3.1-1.
---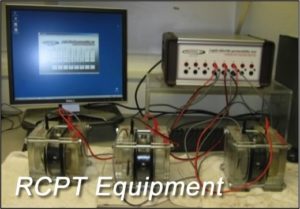 Rapid Chloride Permeability Testing (RCPT) – CME's certified laboratory personnel perform RCPT on concrete samples to determine the concrete's ability to resist chloride ion penetration. Recent equipment updates and refurbished components have allowed for quick, accurate testing to meet the requests of clients. In a matter of hours, RCPT determines how readily chloride ions will travel into saturated concrete specimens, indicating a long-term level of durability of the concrete with respect to exposure to chloride ions.
---
Ultrasonic Weld Testing (UT) – CME's certified welding inspectors use UT on structural steel welds to detect flaws deep within the weld that may lead to failure. UT is also used to determine thickness measurements of steel plates or piping to check for possible corrosion of the steel.
---
Dynamic Cone Penetrometer (DCP) Testing – CME's geotechnical staff utilize the handheld DCP to measure the strength of in-situ soil and determine the thickness and location of underlying soil layers.